Pulses have a place in the classroom as well as the cafeteria.
Check out some pulse curriculums below!
---
Pulse Videos:
Find wonderful pulse videos to accompany the Pulses curriculum created by Crop Science:


CSSA Celegrates IYOP Soil Health
CSSA Celebrates IYOP Human Health
---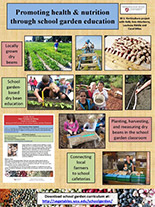 Beans in the Garden Curriculum developed by Washington State University researchers Kelly Ann Atterberry, LeeAnne Riddle, and Carol Miles, PhD.
---
Pulse Stem-Based Curriculum