USA Pulses: The Functional Ingredient
U.S.-grown pulse crops (lentils, chickpeas, dry peas, & beans) set the standard for quality and functionality. Pulse ingredients are nutrient-dense, naturally gluten- and soy-free, and non-GMO. Throughout the past 10+ years, the U.S. pulse industry has seen a substantial increase in new product innovation, tying with flexitarian consumer demands and trends.
Meet your consumer demands with pulse ingredients in your products today.
U.S. quality, processing and grading standards set us apart from the rest. Buy U.S.-grown pulses for superior service and the quality you and your patrons demand.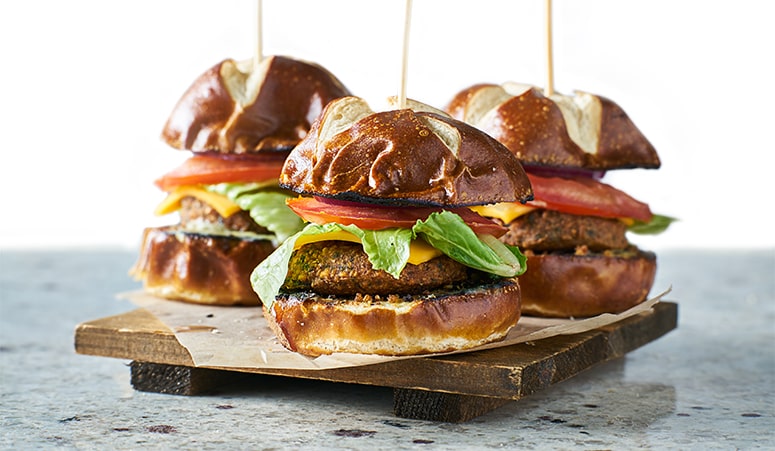 What sets U.S.-Grown Pulses Apart?
Growing Methods are Led by Cutting Edge Research: U.S. pulse growers use current research to determine best growing practices to deliver products for optimal quality, higher protein, and state-of-the-art food safety techniques.
Superior Standards: U.S.-grown pulses set high standards from production, inspection and ultra-modern cleaning technology that ensures premium quality.
Committed to Tradition: Many growers have carried on their family farms for generations and understand the global and domestic consumer's need for quality and sustainable food.
Long-Standing Reputation: The U.S. has a well-earned reputation for having the best environment for growing pulses. The U.S. pulse industry is committed — and has always been committed to — producing and supplying the world with the best quality pulse crops.
Looking for chickpea, bean, dry pea and lentil ingredients suppliers near you?
Head to our
US Suppliers Guide
.
Have a Low Carbon Footprint 1
Pulses have a low carbon footprint. Nodules on their roots are home to a very special type of bacteria called Rhizobium. These bacteria capture the nitrogen gas in the air and convert it to a form of nitrogen that is readily used by plants, reducing the need for nitrogen fertilizers, a major contributors to green gashouse emissions.
Pulses may help reduce global water demand due to their low water usage. By replacing half of animal products with plant-based protein, like pulses, the water footprint of food production could be cut by up to 30%.
Are Drought-tolerant and Frost-hardy

Pulse crops can easily grow in harsher environments when other crops need more resources to grow.
Improve Soil Diversity and Crop Productivity
Pulses support a healthy and diverse farm system, leaving behind essential nutrients including nitrogen and beneficial microbes for the next crop.
Due to dry pulses' long shelf life, they can easily be used and prepared for years to come. The residual liquid from canned pulses can also be used as an ingredient to thicken sauces, or as an egg white replacement in meringue.
References:
Lupwayi NZ, Soon YK. Carbon and nitrogen release from legume crop residues for three subsequent crops. Soil Sci Soc Am J. 2015; 79(6): 1650-1659.
Mekonnen M, Hoekstra M. The green, blue, and grey water footprint of farm animals and animal products. Volume 1: Main Report. Daugherty Water for Food Global Institute: Faculty Publications. 2010. 83.
Pulses have been protein staples around the world for generations, and yet somehow they've never been more on trend. Following the United Nations General Assembly's International Year of Pulses in 2016, the ingredients hit superfood stardom due to their sustainability benefits, affordable price point and high nutrient value, and the momentum continues.