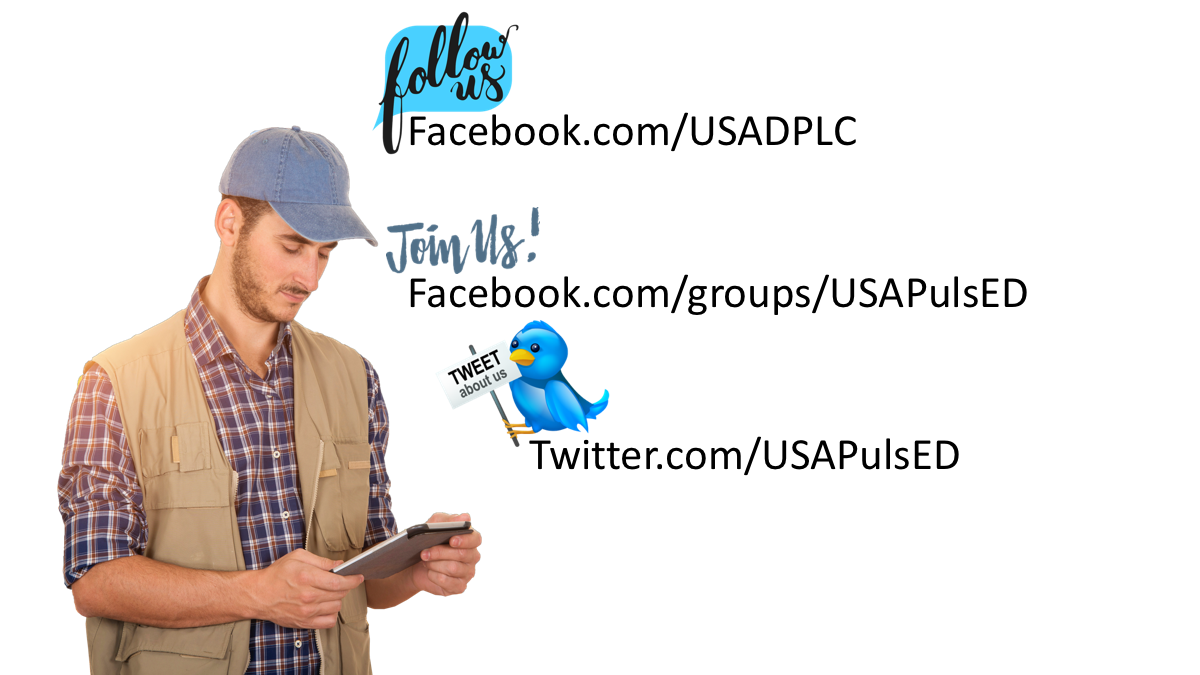 The PulsED Facebook Group is like a digital coffee shop where you can catch up with your neighbor about their farming practices, talk to a researcher or extension agent about the weeds growing in your fields, or an insurance expert about protecting your investment – all from your home breakfast table or the cab of your truck.
This online pulse community expands your circle, your neighborhood, so you can connect with growers in other states or researchers innovating in pest management to share your experiences and hear theirs to come together to grow better pulse crops.
In partnership with the USDA Risk Management Agency, the USA Dry Pea & Lentil Council is committed to building an online pulse crop community of growers, researchers and industry members on Facebook and Twitter.
Here are tips to help you join these online communities…
Facebook
Since it's launch, Facebook has been about "Friends" and connecting with those that have common interests. Facebook is where people share their ups and down, their excitement and frustrations – it's where you might share a photo of your son's wedding, your daughter sleeping in the tractor or your first truck heading to processing. Facebook interactions span both personal and professional connections to build communities. Be sure to adjust your privacy settings to a level you are comfortable with.
Friend: These are your connections, you can search for people and click "Add Friend" to request a friendship.
Post: To share a message with your friends, start typing where it asks, "What's on your mind?" You can add photos, videos, tag friends and add a feeling or activity to express even more with your post.
Groups: Find similar or like-minded people in groups to interact with to share recommendations or ask advice. Search "USA PulsED" for a private pulse industry group where you can connect with colleagues to share tips and ask opinions. Some groups are public, while others a private.
Pages: Follow your favorite brand, company, organization, public figure and more by searching their name and clicking "Follow". You'll then see their posts and be able to interact with what they share.
Tagging: You can tag people, companies or organizations in your posts by typing "@" and then (without a space) starting to type their name. Clicking their name will allow you to mention them in your post.
Connect on Facebook two ways:
Join the private pulse crop community, USA PulsED, by going to Facebook.com/groups/USAPulsED, clicking "Join" and answering two short questions. You will be added to the group once an administrator approves your request!

Once a member, you can read posts by administrators and members, react (like, love, haha, wow, sad, angry) to or comment on their posts, share your own new posts or ask questions to the group.
As a closed group, your activity will be visible to other group members, but not visible to your Facebook friends or the public.
Follow the USA Dry Pea and Lentil Council for industry resources and updates by going to Facebook.com/USADPLC and clicking the "Like" button.

You can react to posts on this page, comment or share them with your friends by clicking "share".
This group is public, and your actions and comments will be visible to your friends and others on Facebook.
Twitter
Twitter is a social media channel where users share their thoughts, news, information (and jokes!) in 280 characters of text or less. Profiles are often public, meaning anyone in the world can see what you write. You "follow" other people and organizations to see what they are saying and to interact with them. On Twitter you'll find growers, industry members, researchers, media, politicians, celebrities, consumers and more. Here is some of the lingo:
Tweet: A 280-character message that can include a hyperlink, image or video
Handle: Your username
Follow: You can "follow" someone on Twitter by searching for their name or handle, and clicking the "Follow" button on their profile

By following someone, their tweets appear on your feed (see definition below) – this is a nice way to stay up-to-date on industry news and trending topics

Retweet ( ): Re-sharing or giving credit to someone else's tweet. Clicking the button will allow you to retweet the post to your followers and, if you like, add your own comment when sharing
Feed: The stream of tweets you see on your Twitter homepage. It's comprised of updates from users you follow and some promoted (advertisement) tweets
Comment ( ): By clicking on the comment bubble, you can reply to the tweet you read
Like ( ): You can show you "like" tweets by clicking on the heart
Mention (@): A way to reference another user directly by his username in a tweet (e.g. @USApulsED). Users are notified when they are mentioned
Direct Message (DM): A DM is a private conversation between two users and will not show up on your feed or profile. You find the "message" option on the user's Twitter profile
Hashtag (#): A way to connect your post with other similar conversations or posts (e.g. #agriculture). You can click on hashtags to see posts from other people using the same hashtag – this is a way to find people or organizations you might be interested in following. Hashtags cannot include a punctuation or spaces.
Connect on Twitter:
Once logged on to Twitter, click twitter.com/USApulsED or search @USAPulsED and select "Follow"
We hope you'll join these online communities to connect with the greater pulse crop industry, so we can grow better dry peas, chickpeas & lentils together!