This week's Pulse Pest Profile is covering North Dakota's current pulse crop moisture issues with insights from Riley Skardal, Facility Manager at Viterra, a grain and oilseeds marketer and handler that partners with growers in Canada and the USA.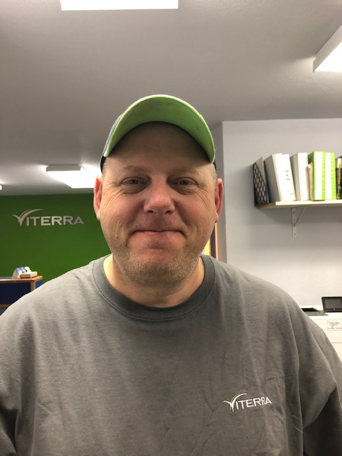 Riley has been employed by Viterra and Viterra USA for twelve years now with a focus on pulses. As Facility Manager based in Ray, North Dakota, Riley is responsible for all operations, as well as purchasing green lentils for his company.
"Our facility in Ray primarily handles green lentils, but have also processed red lentils, chickpeas, and both yellow and green peas," he says, mentioning that the sister facility in Minot, North Dakota handles yellow peas. Still, he keeps a look-out for other commodities and samples, "to see if our merchants can find opportunities for both us and the producers."
Riley is actively involved in the U.S. Pea & Lentil Trade Association, and currently serves on seven other committees.
Moisture in the Northern Plains
We asked Riley how moisture has been an issue this season, and how other processors in the Northern Plains are helping producers deal with high moisture levels. He says that this season, they haven't dealt with high moisture issues involving lentils. The biggest issue they faced was the rain preventing producers from getting in the fields to harvest the crops.
"We still have what I would guess [is approximately] 15-20% of the lentils crop still out in the fields in northwest North Dakota. Unfortunately, what is still left out in the field has been damaged significantly due to sprouting and some molding," he explains.
Control Your Storage Conditions
So, what can producers do to prevent damage from high moisture levels if they choose to store their crop in home storage? Riley says, "if at all possible, run through a cleaner first to remove dockage and foreign material." This will help prevent the bin from heating up and reducing air flow.
Pulse crops sweat for 4-6 weeks after harvest, which in turn produces mold because of the rising temperatures. To avoid this and control the storage conditions, he suggests using aeration bins. He says, "the choice to use aeration, natural air drying without additional heat or a heated air-drying system depends on the grain's moisture level. If the crop only needs to come down 1-2%, aeration is usually successful. If [you're] looking to drop the moisture level by 3-4%, a natural air-drying system will remove the extra moisture."
This year, he says, high moisture levels have mostly been a concern with chickpeas. In the Northern Plains, there has been a lot of drying done with chickpeas, with less concern for peas or lentils. However, there have been some mold issues with lentils, also due to moisture.
Advice for High-Moisture Crops
Riley says a safe storage zone is 60-degrees or lower, and the temperature should be regularly checked in the bin. Another option to aeration – if it's not available – is to turn the commodity outside the bin or coring. He explains that, "the ambient air temperature should be below 60 degrees and the commodity should be turned every couple of weeks until the commodity reaches 60 degrees by removing about a third from the bin and allowing it to cool overnight and then returning in to the bin."
Stay tuned for more Pulse Pest Profiles on our blog and follow us on social media at Facebook and Twitter, and by joining our community of pulse industry members through our private Facebook Group, PulsED. Want to suggest a pest expert for us to interview? Have more pest management questions? Tweet us or send us a message on Facebook!