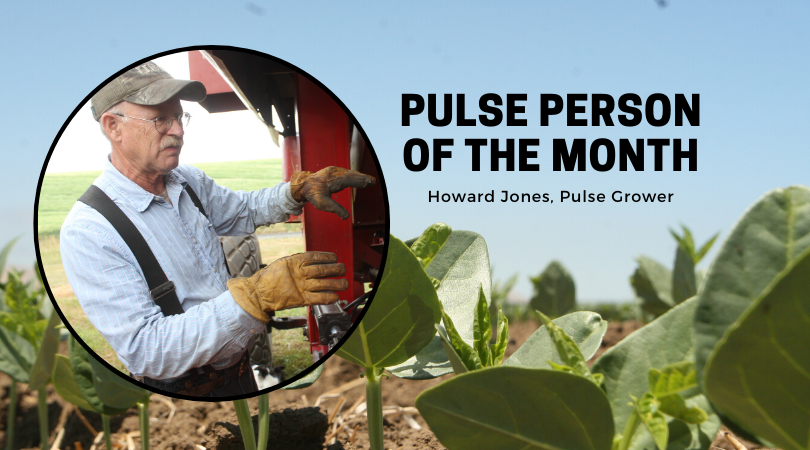 This month, we are featuring Howard Jones, an Idaho-based pulse grower and Lentil Family of the Year honoree.
G-K-G (Get to Know the Grower)
Before returning to Idaho to help his father run their farm, Howard Jones studied and taught in Central America where he found a new 'pulse perspective' through an international lens. His interest in South American cuisine, like beans and tortillas, followed him back to Idaho where he returned in 1982 to begin his own career farming pulses. His grandfather earned the money to buy the property by hunting cougars that had bounties, and today, two-thirds of what they farm is rented.
The Palouse region, where Howard lives, allows for their primary crop to be wheat on their 1,000 acres of farm. Howard also grows dry peas and garbanzo beans, as well as seed barley, barley for human consumption, and canola oil seed crop. Due to their climate, Howard says they are limited to what they can grow but having pulses as a rotational crop helps put nitrogen back in the soil for other crops.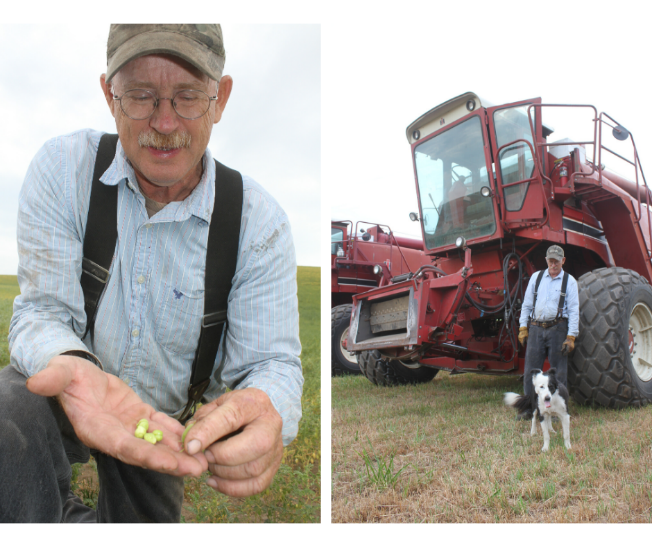 Pulses in Palouse
In the 1920s, the Wagner family from New York moved to the Palouse and began raising lentils because their family members back in New York were not able to purchase any. Notably, this is the original development of the pulse industry in that region.
According to Howard, the development of garbanzo beans started in the early 80s. His mother was a journalist who saw the initial spark of the industry. Soon, zero acres would turn to 80,000 acres of production in idaho. Before the "bean boom," prices of peas and lentils were low, so people were looking for an alternative crop. Howard attributes the success of growing garbanzo beans to the relationship between Sabra and the PNW Farmer's Co-Op.
Howard's daughter works at a local restaurant and is working hard to include pulses on the menu. The Jones' also raise a large market garden to supply more local restaurants with produce. Consumers are becoming more interested in where their food comes from, according to Howard, which is why these businesses go to local farmers to get produce. "Worldwide food production is far better, and just about anything can end up in your kitchen now," he says.
If you're looking to take a road trip to the Palouse, June is primetime, according to Howard and his neighbors. The land is lush with green crop, so much so that it's a trade secret to have prospective buyers visit the second week of June.
Staying Connected
Howard is a member of the USA Dry Pea & Lentil Council and has served as commissioner on Idaho Commission and as a board member of the Western Pulse Growers Association. He says that working with these organizations has led him to meet people around the country he may not have met otherwise. Meeting farmers from places like Montana, North Dakota and Minnesota has given him the opportunity to learn about the problems they face with their crop production and adapt some of the things they've tried for his own pulse crops. He acknowledges that he can always go to the computer for more information, especially during times like these where connecting with people may not be easy because of social distancing measures. Sharing research discoveries on crops in the northern tier has been another way he stays connected to industry members.
His personal involvement in the industry came in 1996 when Steve Druffel asked if he would be interested in a trade mission in South America. Since then, he has taken on committee meetings, paid close attention to new research proposals, and has even gone to Washington D.C. to learn how to lobby for favorable regulations and legislation. He adds that "it's been an eye-opening experience to meet people from across the world and here in the United States. Since, I've been to South America twice and Washington D.C. several times. I've even been to Barcelona for food fair. Tim McGreevy has really put together a great industry that advances the industry around the world, not just here."
Working with these organizations allows for greater awareness and cooperation not just on the local or state level, but also the federal level. "These organizations can work with the EPA (Environmental Protection Agency) and other government agencies to adapt regulations that benefit our industry," he explains. "Having an organization that crosses state borders has more influence on legislatures when they see how farmers raise food for their constituents."
Howard encourages younger farmers to get involved. The internet has made information much more available, but there's nothing quite like meeting face-to-face. "It's amazing to see people from all over the world come to Genesee, Idaho to buy food – it's amazing to participate in that production."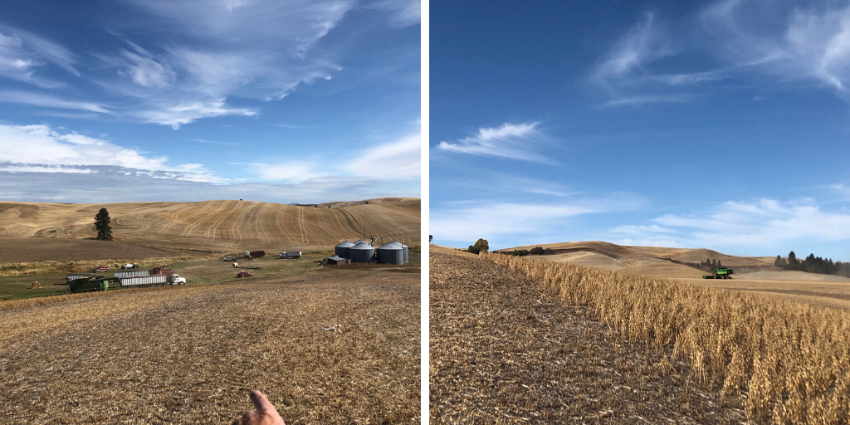 Keeping Tradition While Thinking of the Future of Food
Pulses are the future of food, Howard says, taking note of the International Year of Pulses in 2016, which helped raise awareness for farmers and consumers around the world. "When you think of the high quality, nutrient-dense and relatively inexpensive protein they provide—what a great selling point!"
Howard wants people to look outward. "When you look around the world, every culture has some sort of pulse protein in their diet. As people advance in their economic status, we see their diet change, but I still want to see them keep that traditional food, like pulses, part of their culture," he explains, adding on that the Middle East and India are hot spots for garbanzo beans, Spain and Turkey for lentils.
While keeping tradition is important, Howard also sees opportunity and innovation in plant-based foods. "Having some sort of plant-based food that you can readily adapt and prepare is important. The food industry wants to provide something appealing, full of flavor and of good nutrition quality. This is where plant-based foods come in," he says. "People who consider themselves 'foodies' are more likely to spend more time preparing food versus people with fast-paced lifestyles, especially those who are younger and live in urban areas."
Lentil Family of the Year
"Becoming the Lentil Family of the Year was an honor, and it reflects on the efforts of my mother and father who worked for the development of this industry," he says. Howard admits that when he left Idaho in the early seventies, he didn't want to farm. He saw opportunity in South America to learn, teach, and experience new cultures. That time away from the farm is how he came to fall in love with it when he returned. Back in the Palouse, he saw how wonderful the area truly was, as well as opportunity for producing food.
Family Favorite Pulse Recipes
Howard says his family makes a lot of South American-style pulse dishes, like lentils con queso and haystacks, which includes black beans, chips, cilantro, tomatoes, cucumbers, peppers, and guacamole and sour cream on the side. It's a great build-your-own dish that the whole family can enjoy.
He considers himself a big advocate of the Half-Cup Habit from the International Year of the Pulses which encourages people to add the recommended 1 ½ cups of pulses per week to their diet.
Thank you, Howard, for being our Pulse Person of the Month!
Don't forget to follow us on Twitter and like us on Facebook! Encourage your neighbors to join the community by sharing this blog with them so we can keep the conversation going.