Planting season is upon us and we're covering a new Pest Profile with Dr. Audrey Kalil, Plant Pathologist at North Dakota State University's Williston Research Extension Center (NDSU). Pest Profiles highlight researcher and their insights on current topics surrounding pest management, resources and more.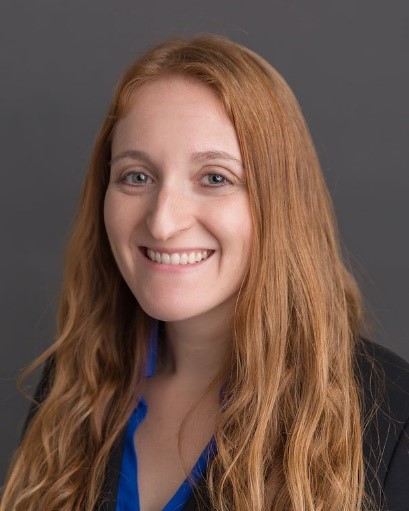 Dr. Kalil's interest in legumes stems from her first job out of undergrad, working for an inoculant company where she learned about the rhizobium-legume symbiosis. She thought the use of biological nitrogen fixation was a very powerful tool in reducing reliance upon nitrogen fertilizers in agriculture. With this interest in studying this symbiosis, she pursued her PhD at the University of Wisconsin-Madison, where she studied the genes underlying the symbiosis in the model legumes Medicago truncatula and Lotus japonicus.
After obtaining her PhD in plant pathology and beginning her work at NDSU, she says "gravitated towards pulse crops and I continue to work on nodulation and nitrogen fixation, now in chickpeas." Along with this work, she has multiple ongoing projects to improve disease management in pulse crops primarily focused on root rots of peas and lentils and Ascochyta blight of chickpeas.
Pest Resistance in North Dakota
Dr. Kalil is currently conducting disease management research in pulse crops and durum wheat. Her work in peas and lentils focuses on Fusarium root rot and Aphanomyces root rot. "In surveys of grower fields in North Dakota, myself, Dr. Julie Pasche (Plant Pathology, NDSU) and post-doc Dr. Kim Zitnick-Anderson (Plant Pathology, NDSU) have observed that Fusarium oxysporum is frequently associated with root rot of field pea," she says. "There are four races of Fusarium oxysporum specific to field peas and genetic resistant to wilt is race specific."
According to Dr. Kalil, a graduate student at NDSU, Taheni Gargouri-Jbir, is currently finishing her thesis work determining what races of F. oxysporum f.sp. pisi are present in North Dakota so that growers can select varieties with the right resistance. "She has also found that this pathogen is capable of causing severe root rot on peas," she explains. "This is an important finding as this pathogen should be included in screening efforts to identify pea lines with root rot resistance for use in North Dakota."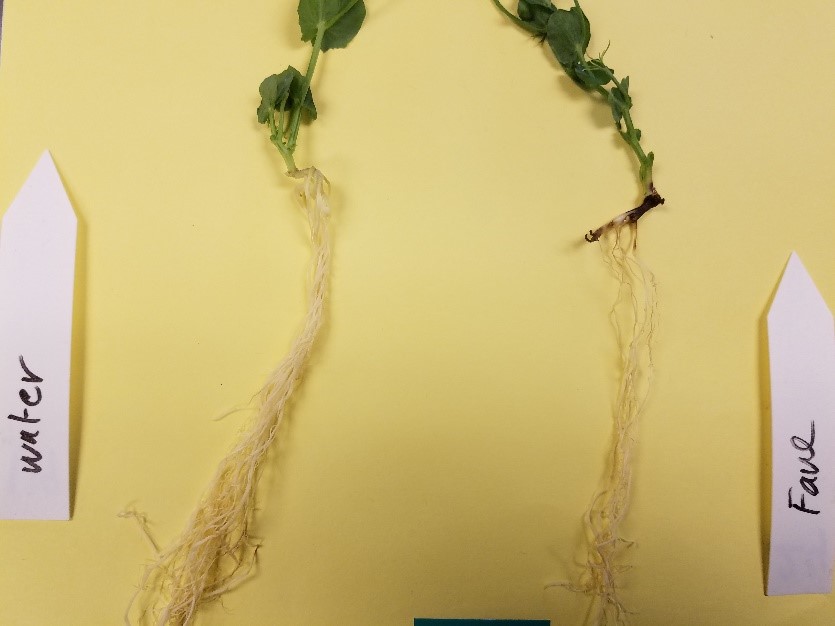 The Fave is the infected plant, the other plant has not been exposed to a pathogen.
Photo credit: Taheni Gargouri Jbir
Dr. Kalil's work also extends to chickpeas, where she is working on evaluating fungicides and chickpea varieties for integrated management of Ascochyta blight. Because this pathogen can develop resistance to fungicide quickly, as well as overcome genetic resistance, it's crucial to have an integrated pest management strategy.
Timing is Everything for Pulse Crops
In collaboration with the Northern Pulse Growers Association, Dr. Kalil led scouting efforts in peas, lentils and chickpeas with Dr. Janet Knodel (Extension Entomologist, NDSU) and Dr. Julie Pasche. She says that for three seasons (2016, 2018, and 2019), diseases and pests of these crops were monitored in grower fields in North Dakota and the data was published online and in the NDSU Crop and Pest Report.
"As part of this work", Dr. Kalil explains, "Dr. Pasche and I surveyed root rot in lentils and chickpeas to determine which root rot pathogens were most prevalent." The first report of Aphanomyces root rot of lentils in North Dakota was published in January 2020. All of this work has been important in understanding the timing of disease onset in grower fields, as well as determining which diseases are of the greatest concern in the pulse growing region of North Dakota.  
The Big Challenge
Right now, Dr. Kalil believes root rots are the biggest challenge in peas and lentils for disease management. She says that root rots, such as Fusarium root rot and Aphanomyces root rot, occur wherever these crops are grown. What makes them so challenging is that there is no genetic resistance and fungicides only provide some protection. "Crop rotation is an essential management strategy, and more data is needed in this area," she adds.
Advice from the Researcher: Diagnose the Problem
If a grower is concerned about disease or pest problems, Dr. Kalil says the first step is to diagnose the problem in order to determine the appropriate management response. Plant disease diagnostics labs are available at NDSU and Montana State University. She encourages growers to reach out to county agents who can work with researchers and these labs to understand the problem and develop a strategy.
The first line of defense is crop rotation, which is already well-practiced by pulse growers. While growers might not see this disease every year due to weather conditions, it can be hard to manage a way out.  "A disease like root rot is only managed preventatively, so lengthening out the time between both peas and lentils in particular is important," she says.
There are many resources and guides available online to answer your pulse pest questions. Here are some that Dr. Kalil recommends checking out:
If you would like to connect with Dr. Kalil and learn more about her ongoing research, follow her on Twitter at @Audrey_Kalil.
Stay tuned for more Pulse Pest Profiles on our blog and follow us on social media at Facebook and Twitter, and by joining our community of pulse industry members through our private Facebook Group, PulsED. Want to suggest a researcher or pest for us to cover? Have more pest management questions? Tweet us or message us on Facebook!