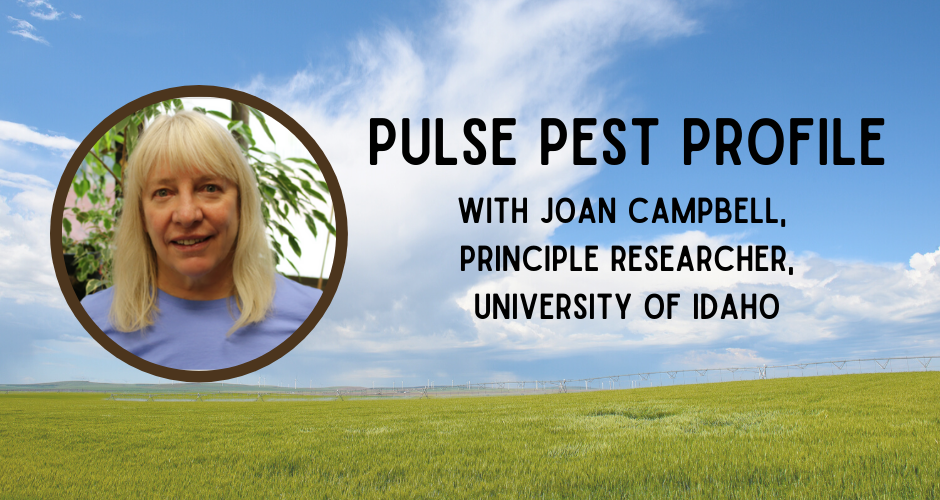 Growing season is here and Joan Campbell, Principle Researcher at the University of Idaho in Moscow, sat down to talk about pulse expectations and weed and herbicide resistance this season.
Campbell has been an agronomic weed scientist since 1980, teaching classes on general weed control and pesticides. Her research includes aspects of wheat production systems related to weeds and herbicide resistance. Her work with pulse crops has spanned over the last 40 years, on and off. She says pulses are an important rotational crop. Her research includes insecticides, fungicides and seed treatments.
The main region of emphasis, she says, is the Palouse area of northern Idaho and eastern Washington, which are famous for their rolling hills and steep slopes, where weed scientists at Washington State University and University of Idaho have been collaborating for many years. "I also collaborate with plant pathologists or other scientists whenever possible," Campbell says.
Weed & Repeat
Pulses are up and growing, Campbell says. When it comes to growers managing weeds, she explains that herbicides for broadleaf weed control would have already been applied before the crop emerged, and Metribuzin is the only broadleaf herbicide that can be applied post-emergence, but it will only control small weeds. "Now is the time to watch for emerging grass weeds and apply a grass herbicide after the flush comes from our recent rainfall," she adds.
Some areas are facing problems with Italian ryegrass, which can be controlled only with an ACC-ase inhibiting herbicide (Group 1). She explains that, "records will indicate which fields have ryegrass that may be resistant to certain herbicides. Ryegrass is difficult as it can emerge in the fall and throughout the spring as long as the weather is wet and cool." However, emerged ryegrass plants can be controlled before planting, and delayed seeding might be helpful to allow more weeds to emerge so they can be controlled with a non-selective herbicide or tillage.
According to Campbell, a survey over the last 3 years has shown widespread resistance of Italian ryegrass to PowerFlex, Osprey, and Amber (all ALS-ihibiting, Group 2). Group 1 herbicides had a 65-78% resistance in the fields tested, which she says is "still advantageous to rotate among them, as the plants are not always cross resistant from one chemical to the next, but only if a Group 1 herbicide is the only option."
Wild oat is another emerging grass weed that has seen reports of herbicide resistance. It's less common than Italian ryegrass, Campbell says, but more reports are being made every year. "Applying two herbicides that are active on a single weed, preferably herbicides with different modes of action, is an additional tactic for managing against herbicide resistant weeds. Going back to older chemicals, for example triallate for wild oat control, at times will also help with resistance management," Campbell advises.
Adding Pulses into the Mix
Campbell says rotational crops are one of the best methods to help control weeds and reduce weed seeds in the soil, and "the more crops in a rotation, the better chance of controlling multiple weed species and managing against herbicide resistant weeds."  
These broadleaf weeds are a problem in peas, lentils and chickpeas, Campbell says. Because lentils are short and less competitive and have fewer herbicide options than dry peas and chickpeas, they tend to have more plants throughout the growing season. Dry peas, she explains, have taller leaves and are more competitive than chickpeas. Most herbicides for broadleaf weed require rainfall for activation, and "without timely rainfall, weed control is diminished." She suggests that applying long residual herbicides in the fall or earlier in the spring can ensure rainfall activation, "however, not all herbicides can be applied before planting."
She mentions that growers will have a greater need for post-emergence herbicide for weed control in chickpeas, particularly with lambsquarter, which is common in pulse crops. "Uncontrolled, common lambsquarters is also a large problem at harvest requiring pre-harvest burndown applications." Dry peas are tolerating post-emergence applications in research trials. Chickpea tolerance and weed control shows promise in research trials with Paraquat. "This would be a valuable salvage control when rainfall is inadequate to control weeds with pre-emergence herbicides," she explains.
Other Weed Control Methods
When it comes to other methods of controlling weed, Campbell shares insights about tillage, bailing stubble, and collecting chaff. "Balers have been used directly behind the combine to remove the chaff that contains most of the weed seed. Straw can also be baled after harvest but not as much weed seed will be collected and valuable organic material is removed from the field. Weed seed destructing impact mills can be attached to the back of combines. They are effective in driving down the soil seed bank for weeds that do not shed seed before harvest," Campbell tells us.
"Chaff lining, concentrating chaff in a narrow row, can help with weed control by keeping most of the seed in a small area instead of spreading across the field. This highly concentrated chaff zone is inhospitable for strong weed growth. Some of these methods may work better in rotational crops and only work on species that do not drop seed before harvest."
University of Idaho Weed Science Research Tour
The Weed Science Research Tour is scheduled for June 17. "Chickpea variety tolerance to paraquat, control with Tough herbicide and other herbicide treatments in chickpea will be shown as well as weed control in cereal crops," she says. Social distancing will be enforced with face coverings and visitors may be limited. Contact Joan Campbell at This email address is being protected from spambots. You need JavaScript enabled to view it. or 208-885-7730 for more details.
Stay tuned for more Pulse Pest Profiles on our blog and follow us on social media at Facebook and Twitter, and by joining our community of pulse industry members through our private Facebook Group, PulsED. Want to suggest a researcher or pest for us to cover? Have more pest management questions? Tweet us or message us on Facebook!